Every time an opportunity comes up to dress as a character I brainstorm for ages but I actually rarely get to dress up as anything exciting. Here are some costume ideas for brown and black girls to use for Halloween or other costume events.
Please take a moment to check out this video from Nabela Noor. 1:40-1:56 is my favourite part, I honestly laughed so hard. I love Nabela's acting.
All of the pictures and gifs used in this post are sourced from the first page of Google Images of typing the character's name.
Chel from The Road to El Dorado
This is one of the most entertaining animated films out there. They don't make them like this these days. It was one of those movies my brothers and I wouldn't watch for ages but then when we did re-watch it we were like "YAAAASS forgot how damn good this was!!" Cheeky Chel was so funny and flirty. The clever girl got Tulio and Miguel through their ordeal in the City of Gold.
I love Chel's outfit. A cute pink and cream bandeau and knotted cream coloured skirt with slits, paired with some large pale blue earrings and bangles or gold earrings and you're set! I'd love to dress up as Chel but honestly my mother would have a heart attack if I was out in public dressed that haram. Such a shame considering I look bangin' with blunt bangs!


Esmeralda from The Hunchback of Notre Dame
Esmeralda is such a stunning character. She is strong-willed and generous with a good heart. Find a cream or white coloured off shoulder top, a purple maxi skirt and a few accessories and you'll be look notre-dammmmnnnn-fine.
Often people gravitate towards Jasmine as their go-to brown girl character from Disney, but Esmeralda is one foxy babe and worth considering! In fact you could probably wear the pieces from Esmeralda's outfit repeatedly throughout the seasons.

Martha Jones from Doctor Who
Literally one of the best ever companions to ever grace the TARDIS. Witty, intelligent, loyal. Martha Jones is a total BAMF. Fucking love her to bits and my heart aches thinking of the hardships her character endured. There are many many costume choices with Martha as she had outfit changes throughout episodes. I dressed as Martha Jones for a fancy-dress party a few years ago. It was my best friend at the time's younger sister's birthday bash and I dressed as Martha in the episode "Smith and Jones" s3e1. Photo not included because it's blurry and embarrassing. 😛


Lieutenant Uhura from Star Trek
Nyota Uhura is one of my favourite Star Trek characters! I would get so excited whenever she appeared on screen when I eventually began watching the show. There is the Nichelle Nicholls version to dress up as and more recently the Zoe Saldana version from the film. A simple red dress with some yellow and black accessories will nail your look.
Fun fact: after the show was cancelled Nichols went on to work with NASA to help minorities and females get recruited, with another company she helped run called 'Women in Motion' and one of their recruits Dr Sally Ride was the first female astronaut in America.



Mindy Lahiri from The Mindy Project
Once again there are many outfit options here, as the outfits change from episode to episode. Bright yellows and pinks are key here, as well as bold shoes and accessories like headbands, belts and cute bags. Mindy is a hilarious character. She has a lot of self-love and she tries to support her friends. I think the first couple of seasons of this show are way better than the later seasons, but it is always going to have a special place in my heart.
Go and channel your inner Beyonce Pad Thai at your next costumed event!

Princess Yum-Yum from The Thief and the Cobbler
I have saved my favourite for last. Also titled as The Princess and the Cobbler, this movie was fucking phenomenal and if you remember it from your childhood then you are cool beans in my book. I loved how Tack (the main man who is the titular cobbler) was super pale in the beginning but got more substantial in colour as the film progressed. This film actually has a really rich backstory and history which is interesting to read about. Princess Yum-Yum is now my nickname between a few of my coworkers now because I keep referring to her as being one of my favourite characters ever. I would love, love, LOVE to dress as her for a costume part with some huge red plastic love heart earrings and tikka. I love her big purple eyes and her gorgeous brown skin. Like with Chel, my mum would have a heart attack if I went around dressed as Princess Yum-Yum. Looking all haram, cleavage exposed and all that hahaha. Yum-Yum indeed. 😉
I highly encourage all you other dark-skin sisters out there to recreate her look. Bonus points if you can find a tall lanky, pale dude to be your Tack for a couples costume. Pin that Tack to your side. 😛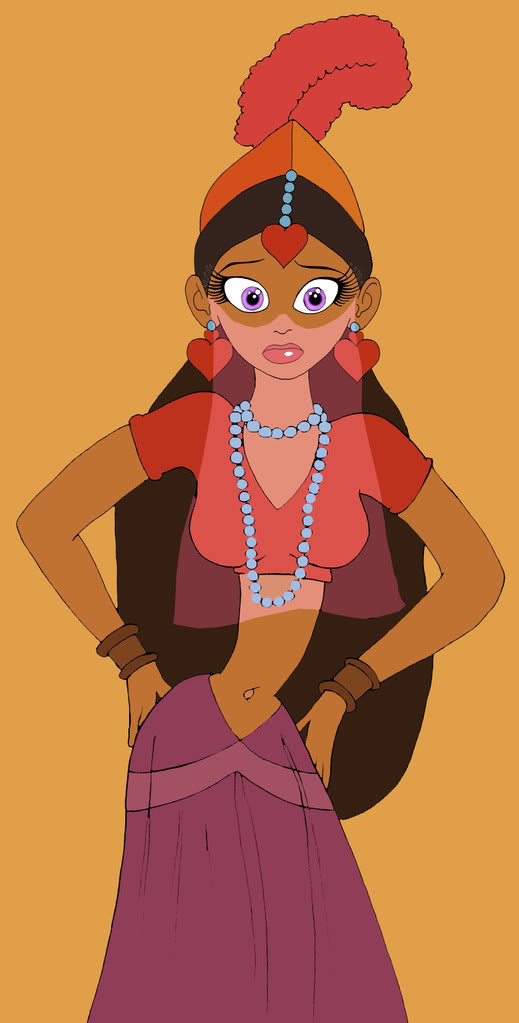 I hope all you brown girls enjoyed that if you needed some more ideas. Drop a comment below if you'd like to see a food version of a costume idea list (even though Halloween 2017 is tomorrow).